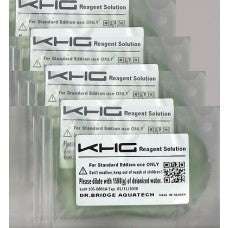 KH Guardian Reagent
The KH Guardian reagent is a special concentrated formulation to ensure the accuracy of the testing and safety of the reagent that goes back into your aquarium. Dr. Bridge carefully selected pharmaceutical grade reagent for purity and stability. 
Each pack of concentrated KH reagent shall be diluted with 1500 ml of RODI or Distilled water. Keep the error in +/-1 ml of water. Each concentrated reagent pack can be used for about 45 days if the KH Guardian is set to performs a test every four hours with a consumption of 4 grams of solution.
No preservatives are added to the concentrated KH reagent pack in order to protect the safety of living creatures in your reef aquarium.
---
We Also Recommend
---