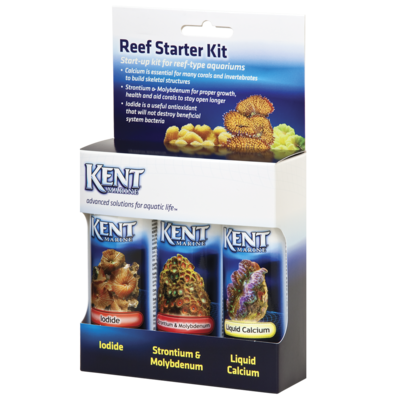 Kent Marine Reef Starter Kit
A perfect start-up kit for reef type aquariums.
The KENT Marine Reef Starter Kit
provides three of the most important supplements for marine invertebrate keeping: calcium, strontium and iodide.
Includes the following KENT Marine products in 4 oz sizes
KENT Marine Liquid Calcium is an easy to dose liquid formulation that provides the essential calcium that corals and many invertebrates require. Will not affect pH or buffering capacity.
KENT Marine Strontium & Molybdenum provides these elements needed for proper growth and health of hard and soft corals. Corals traditionally respond by staying open longer as strontium aids tissue adhesion to skeletal structures.
KENT Marine Iodide replaces iodide that is rapidly depleted in aquarium systems. Iodide is a useful antioxidant that will not destroy beneficial system bacteria. Also aids in stabilizing coloration due to light intensity fluctuations.
---
We Also Recommend
---