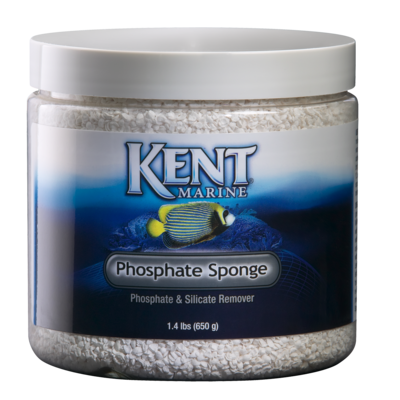 Kent Marine Phosphate Sponge
KENT MARINE PHOSPHATE SPONGE
quickly adsorbs phosphates in fresh and saltwater aquariums. Beads are cracked to expose more surface area and increase efficiency! Will not release soluble aluminum compounds into the aquarium.
Directions
Rinse with fresh water before use (preferably reverse osmosis or de-ionized water).
WARNING: Product may get hot the first time it becomes wet! Use rubber gloves and place in a plastic container while rinsing!
Then place in a large mesh bag (800 micron) or a canister filter, directly in the water flow. Make sure water flows through the material and not just around it.
Leave in water flow for 8 hours to 2 days and remove. If left in for more than two days, product will have reached the maximum phosphate adsorption and could begin re-releasing phosphates back into the system.
To keep phosphate levels low, replace KENT Marine Phosphate Sponge on a regular basis.
For silicate removal, phosphates must be removed first. To do this, continually replace KENT Marine Phosphate Sponge on a regular basis.
Directions for Renewal
For phosphate removal, product may be renewed twice and absorption capacity will be greatly reduced each time. To renew, spread ¼" thick on baking pan. Place in a 450°F oven for one hour. Let cool. Rinse with fresh water and re-use. Do not use pan for food.
Can also be used to absorb moisture when drying air for ozone. For this application, KENT Marine Phosphate Sponge can be renewed over and over.
---
We Also Recommend
---