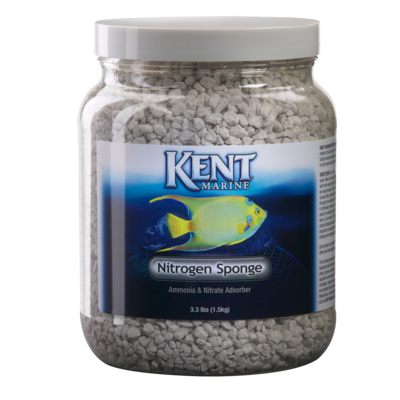 Kent Marine Nitrogen Sponge
KENT MARINE NITROGEN SPONGE
is a granular zeolitic medium that directly adsorbs ammonia in freshwater and fosters anaerobic bacteria growth to reduce nitrate levels in both marine and freshwater aquariums.
Directions
Use 1 cup for each 20 gallons of aquarium water. More can be used for greater effectiveness.
Rinse with fresh water before use (preferably reverse osmosis or de-ionized water).
Place in a large mesh bag (800 micron) or a canister filter, directly in water flow. Make sure water flows through the material and not just around it.
To control ammonia in freshwater systems, granules can be replaced weekly.
When used for controlling nitrates, replace only half of the granules every 3 to 6 months. 3.3 lbs (1 qt) treats 50 gallons and will reduce nitrates by about 20 ppm.
Several weeks will be required to see an appreciable drop in nitrates. Test nitrates and ammonia regularly.
Can be used as an excellent media in de-nitrators and other slow-flow applications.
The increased presence of ammonia or nitrates is usually associated with the system's organic load. To keep this in check, prevent overfeeding, practice good maintenance, avoid aquarium overcrowding and provide proper filtration and water circulation. Regular water changes using reverse osmosis water are probably the most immediate way to reduce and regulate these levels. In marine systems be sure to use low nitrate salts such as KENT Marine Sea Salt.
---
We Also Recommend
---