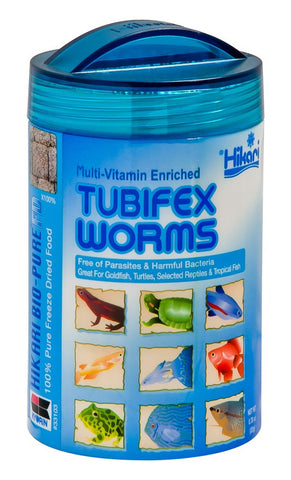 Hikari Freeze Dried Tubifex Worms
A Great Treat Or Daily Diet For Goldfish, Certain Reptiles & Tropical Fish, Discus, Smaller Freshwater Fishes, Turtles & Some Lizards.
Bio-Pure FD is the world's cleanest freeze-dried fish food available today. Pharmaceutical freeze-drying techniques allow us to give you a product as close to fresh as humanly possible. Expect a texture and taste not previously available in a freeze-dried food. If you're looking for an excellent daily diet or treat for your smaller freshwater fish, turtles or lizards, look no further. Bio-PURE FD Tubifex Worms, your best choice from the quality leader, Hikari!
KEY BENEFITS
Convenient, Small Cubes Of Tubifex Worms

Allows easy monitoring of amount eaten
Helps eliminate over-feeding
Allows you to easily watch your aquatic pets feed
Will not cloud the water

Quality Beyond Compare

Multi-vitamin rich to reduce stress and stress related diseases.
Nitrogen charging reduces oxidation prior to opening
Oxygen absorbers reduce oxidation once opened
Free of parasites and harmful bacteria

Better Value

Less water means you get more food
Less waste due to oxidation means your cost per feeding is less
Convenient cube reduce over-feeding and the water quality problems that may result
---
We Also Recommend
---