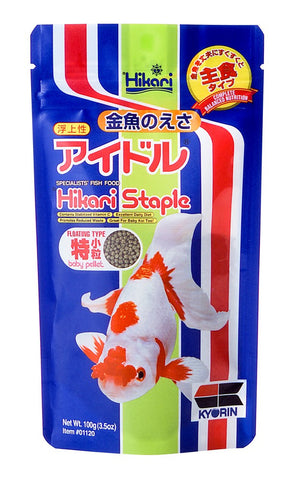 Hikari Goldfish Staple Baby Pellets
A balanced daily diet for all types of goldfish, rich in plant matter and offering excellent growth characteristics!
Extensive research into the eating habits and living conditions of goldfish and baby koi provided us with the knowledge to develop Hikari Goldfish Staple™ baby pellet. This economical, daily diet for goldfish and koi fry will provide them with the basic nutrition they require to live a long and healthy life.
FEATURES
Did you know Goldfish actually prefer eating live plants?
In nature, Goldfish seek out natural foods like water plants to appease their appetite. ®Hikari Goldfish Staple™ contains higher levels of plant matter including Alfalfa, Kale and Mulukhiya offering a naturally flavorful formulation.
No artificial colors or flavors added
The natural green color is derived from a highly nutritious ingredient mix and won't negatively impact your pet's water.
A scientifically balanced formulation that requires no supplemental feeding
Contains all the necessary nutrients your pet needs to live a health-filled life.
Our laboratory verified growth characteristics make this an ideal starter diet for most Goldfish varieties.
Your best choice for Goldfish and baby Koi larger than 35mm or 1.5 inches
This floating baby pellet is easy to feed and allows you to readily monitor your pet's intake to help avoid overfeeding and the related water quality and health issues that can result.
Developed, produced and packaged in our facilities
We can be assured you'll always get the ®Hikari quality you expect!
---
We Also Recommend
---