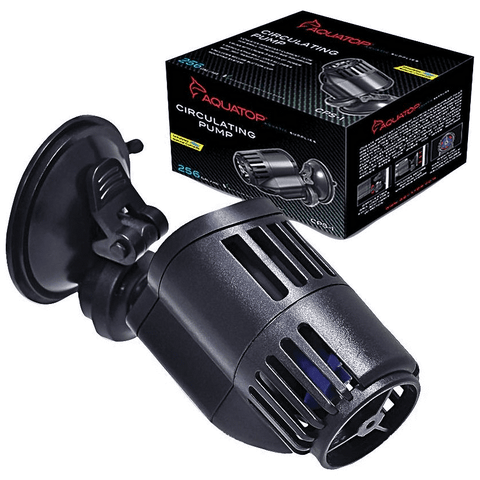 Aquatop Circulation Pump
Finally for small tank owners, we have a solution for creating important current flow. The CPS-1 Circulating Pump not only makes your aquarium more visually appealing, it also improves the environment for your little creatures. Before the CPS-1, aquarium hobbyists were forced to equip their tanks with big size wave makers. Aquatop's CPS-1 Circulating Pump is compact but powerful and sits on an articulating ball joint that allows a wide, 360-degree range of motion. Now, you can easily adjust the angle of your pump to provide water flow where you never thought possible. In addition, the new suction cup mounting system provides a sturdy and secure hold to any glass or acrylic surface.
ADDITIONAL FEATURES
Product Gross Weight:

 

0.5000 lb

Product Net Weight:

 

0.5000 lb

Product Height:

 

2.50 in

Product Length:

 

5.00 in

Product Width:

 

2.00 in
Use Instructions:

 

Make sure aquarium surface is clean where the circulation pump is to be mounted. Any dirt, algae, or debris on mounting surface will prevent having the maximum hold possible and increase the chance for the circulation pump to slide or create unwanted noise.• Simply place the suction cup on a clean flat surface on the inside of your aquarium• Make sure that the circulating pump is completely submerged under the water line.• Make sure that the clamp lock is in the up position and press the suction cup firmly against the mounting surface.• Press down on the clamp lock until it locks into position.• Make Drip-Loop and connect to electrical outlet. Adjust the direction of flow according to the need of your aquarium inhabitants.
AFETY
Caution:

 

Keep this product away from children. For indoor use only.

Safety Warnings:

 

It is your sole responsibility to verify that the plug and receptacle are clean and free of moisture and salt build up at all times. The receptacle must be free of water, salt, calcium, magnesium and dust. Failure to do so can cause fire, damage to property, and permanent damage to the products and personal injury not limited to the loss of life. 1. A drip loop must be used with all electrical aquarium devices. a drip loop is a self-made part of the cord hanging below the receptacle.2. A GFCI (Ground Fault Circuit Interrupter) should be used in the branch circuit supplying all power to water pumps and electrical aquarium equipment. If you do not have a GFCI, we strongly recommend having a qualified electrician install one prior to operating any aquarium component.3. Do not plug into extension cord/power strip.4. Use this product for its intended purpose only.5. Never yank or pull the cord from the electrical outlet.6. Do not operate if the plug or wire is damaged.7. Verify that hands are dry prior to disconnecting the power.8. To reduce the risks of electrocution, keep all connections dry.9. For indoor use only.10. If any of the electrical components get wet, unplug immediately.11. Do not use soaps or detergents when cleaning this device. Thoroughly clean and rinse with warm water and make sure the device is completely dry before connecting.12. Keep this product away from children.
WARRANTY
Warranty Description:

 

1 Year
SPECIFICATIONS
Benefits:

 

1. Compact, energy efficient design2. Provides water flow even in crowded spots3. Provides a sturdy and secure hold to any glass or acrylic surface

Compatible Tank size:

 

40 Gallons

Compatible With:

 

Aquarium

GPH:

 

256 Gallons

Voltage:

 

120 Volts

Wattage:

 

2.5 Watts
---
We Also Recommend
---